We swapped out the massive dresser/cabinet for a smaller, more human-scale dresser that I refinished. We used this dresser at the apartment and by the time it got back to our house it had been pretty severely scratched on the top and on the front. Luckily, the scratches were only on the 1960s finish and not on the wood. So, I stripped the finish and applied a stain/poly combo to it. I spray painted the hardware and I'm pretty pleased with the results.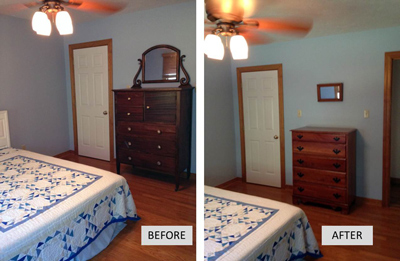 Yesterday we hauled a bunch of stuff to the better-half's aunt's thrift store and to her church for their yard sale next week. It was a total of four loads and we finally got rid of the generator that wouldn't start. There are some handy older men who go to that church and they think they can tinker with it to get it working. We got the impression that if they could, they may keep the generator for the church, but we'll see. After they get it working, they could easily get some serious coin for it. They could probably pay rent on the store for a couple of months on that one sale.


I'm very happy with what we've been able to do these last few weeks, but I have to tell you that it was AWESOME sitting in the garage yesterday afternoon with a beer and listening to our voices echo. The few items remaining in the center of the garage are recyclables, the cages we use to trap cats and our working generator. It's hardly anything, really.