I recently worked on a project that went so far over deadline that it was as if there was never a deadline. There were many reasons why the deadline rolled right by, but none were a result of my own work. That's a tough thing to swallow knowing that you've done everything you can and still the stuff doesn't get done when it was promised. Ah, well. Hopefully it was a learning moment.
This week we had a major deadline for training that happens in two weeks. This project has been a cluster from the beginning and if the words scope creep, poor software design and lackluster management are familiar terms for you, then you know what it's like to work on this project. I've worked on lots of projects in my time, but this ranks high on the list of the worst. However, we met yesterday's deadline.
Mostly, we met that deadline because my boss's boss booked this room for me for a week and a half: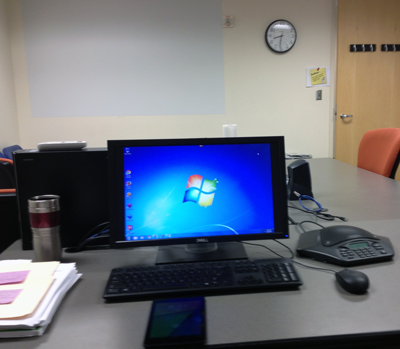 A room with computer equipment and silence is a thing of beauty.