We went to Philly this weekend. We left Richmond on an early morning train, but not too early. We arrived in early afternoon and then bought Septa cards and promptly got lost and confused. A Septa employee took pity on us and got us moving in the sort of right direction (it was more direction than we had before). It turns out Septa has regional trains and what passes as a Metro, aka local trains. Once we figured that out, we were golden. DC's metro is way more clean than Philly's subway and Philly's is way more clean than NYC's system.
We ducked into Reading Terminal Market thinking we could get some lunch and OH MY GOOD LORD. Nope. We found our way back out and then made our way to the hotel. We checked in and then found the Sassafras Bar. Saints preserve us, Danny took great care of us. We had a soft pretzel, fries with garlic aioli and marinated olives. Lunch of such health. The drinks were kicking too. Then we napped. It was rainy and gross so spending time in a bar and then an hour nap totally felt justified.
Dinner was at Karma and it's been too long since we ate Indian that we decided we need to go more often. The neighborhood where we stayed was pretty happening. Lots of bars, restaurants, museums, things to do. Although, at some point we were clearly the oldest people at Karma, but that was OK.
Saturday we packed all of our sightseeing into a few hours and walked nearly 10 miles. By the time we called it a night, I was struggling to walk up a flight of stairs. Quick list:
Liberty Bell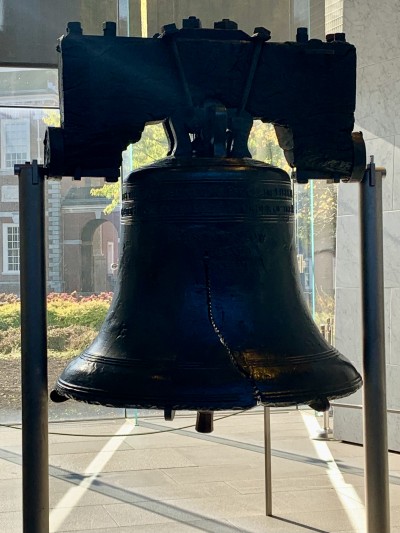 Schuylkill River walked along it to the Philadelphia Museum of Art and watched the end of a Rocky Run–we did not run up the steps, but we did walk up them and also did not make the gesture of the double fist pump.
Mutter Museum which was fascinating and wigged me out.
Lunch from Campo's–pretty good cheese steak and a classic Italian hoagie which we split in half and then ate the remainder on the train home today.
Walk along Penn's Landing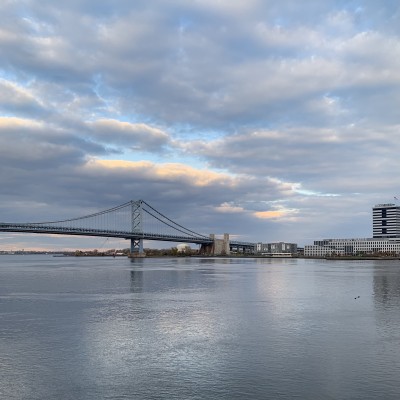 Cocktails and excellent popcorn at Royal Boucherie
Dinner at Spasso Italian Grill. The veal porcini was delicious. The better-half enjoyed his chicken parm.
Easy peasy trip home on the train and a happy cat at the door.