We went to see Scott Bradlee's Postmodern Jukebox last Friday night and this photo is from their rendition of Sweet Child of Mine: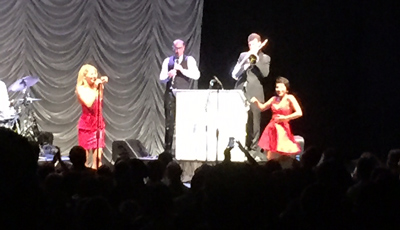 The woman to the far right was tap dancing. Tap dancing. The best way to hear that song, ever.
We were given these: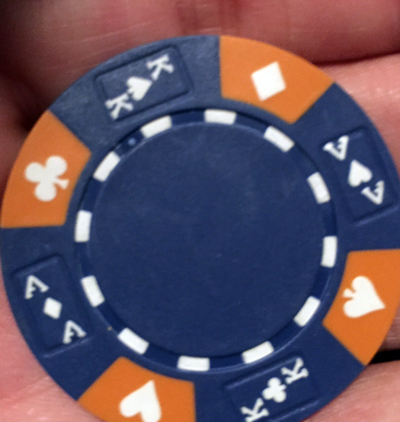 which was our entry into a speakeasy. The space was great, the band was hot and the drinks were outstanding. A completely unexpected thing to do after a show and so much fun.
Last night, we went to see the Psychedelic Furs. We stood behind these guys:

Do you recognize them? Me, not the particulars, but had I seen the Psychedelic Furs back in the day, I would have stood behind these guys. Same age group, same level of enthusiasm and it was nice to see. I could imagine these guys standing around, dressed the same way in 1989, buying each other beers and cracking each other up.
Because we are on vacation and the weather is outstanding, we indulged in some cheese: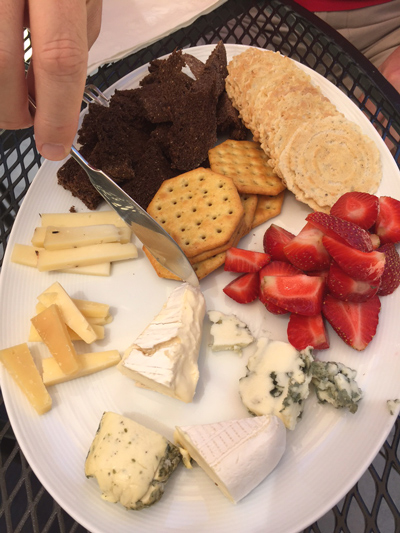 The strawberries and the pumpernickel rye on the plate were purchased this morning from the Farmers' Market. The place was back in full swing this morning.