We took Friday off and caught a northbound train to DC. We have wanted to visit the African American history and culture museum for years and booked tickets for Friday afternoon.
What an amazing place. It was packed with visitors but we enjoyed the exhibits. Enjoyed is a weird word because that museum presents how awful the experience has been. So in this sense enjoyed means it's good to be uncomfortable sometimes especially when seeing the world from a different perspective.
Afterwards we went for a drink or two at Allegory.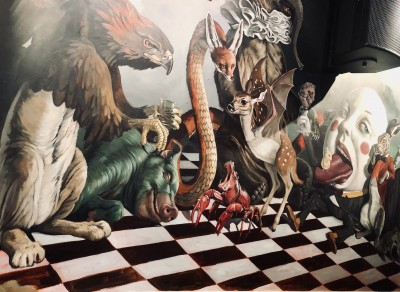 We had dinner at Corduroy and it was fantastic.
We laid around in bed reading on Saturday morning because we never get to do that and it was raining pretty hard. We went to Unconventional Diner for brunch and then we scoped out the Wharf area. In spite of the rain we were able to see some of the cherry blossoms across the water.


Then it was off to the Rubbel museum. As soon as we walked in, one of my favorites: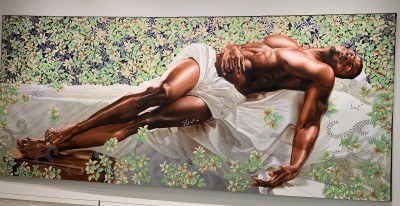 We took the metro out to Arlington and visited the the Museum of Contemporary Art Arlington. It is a small venue but powerful art. We were feeling peaked and since it was a Saturday we took the train to Foggy Bottom, and sat at the bar at Circa. We watched people, the TVs, drank a couple beers and split a mushroom flatbread.
Dinner was at Tortino's and they surprised us with a happy anniversary dessert. I had forgotten I put that information into my Open Table account. I guess the reservation got flagged. It was surprising and the gelato was delicious.
Breakfast on Sunday was at Baker's Daughter which was pretty good. Then we got to Union Station via the metro and caught our train home.
The food got high marks this weekend. The low spot was a restaurant in Chinatown that was pretty mediocre. Good hot and sour, but otherwise meh.